Whether you're selling MAPD, life, annuities or even P&C, Medicare Supplement is a product you should always have in your toolbox. There are many agents who make an amazing living selling Med Supp alone but even if it's not your specialty, it's an easy way to add significantly to your current income while providing an important service to your clients.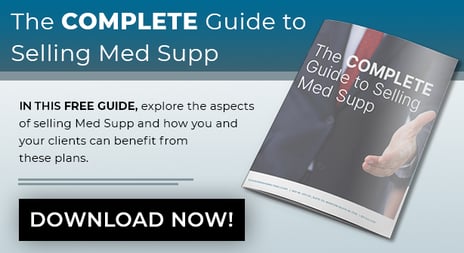 It's A Great Income Opportunity
Medicare Supplement sales not only provide first year commissions, it is a reliable source of renewal income as well. Carriers typically pay 6 years of level commission and some provide renewals up to 10 years. Add the cash bonuses that many carriers pay for new business and that makes your income potential extraordinary! You can watch a quick video below to see how it works:
There are some great Med Supp bonuses available now! Call your Agent Advisor for more information.
There Are Virtually Unlimited Prospects
Since 2011, with the "Baby Boomer" generation entering retirement age, approximately 10,000 people have been turning 65 every day. This is projected to continue until the youngest Baby Boomers turn 65 in 2029. Additionally, there are a vast number of seniors already covered under a Med Supp plan who could qualify for a lower premium option. As an agent who can provide a solution, you'll capitalize on one of the best opportunities in insurance sales.
It's A Simple Product To Learn And Explain
Once you have learned the basics of Medicare, understanding how Med Supps fill the gaps in coverage is a snap! Plans are standardized in most states so comparing options between carriers is easy. The best pick usually comes down to the premium, rating and reputation of the carrier. We have simple to use tools to find the best plan for your clients so the hardest part of selling Med Supp isn't hard at all!
Need more information on Medicare and selling Med Supp? Ask us about MyAdvisor!
Nationwide Availability
Medicare Supplements can be sold anywhere where Medicare is available. There are no networks or service area limitations. Any medical provider who accepts Medicare will also accept a Medicare Supplement. This is a huge benefit to clients who travel frequently or who are worried about network availability. Some Med Supp plans will even cover emergency medical expenses while travelling out of country.
Easy To Issue
If you sell a Med Supp plan during a client's Open Enrollment period, there is no medical underwriting. Even after this period, underwriting is not the barrier that you might think it would be. In fact, about 3 out of 4 underwritten Med Supp applications are issued. Most carriers have adopted an e-app capability so it's now possible to take an application in person or over the phone and have it issued that day!
Opportunities To Cross-Sell
Seniors tend to be more open to discussing their Medicare coverage than other types of insurance. Once you have built trust with them by finding the best Med Supp for their situation, you'll have a chance to discuss other needs such as life insurance, annuities, dental and vision coverage, home health care, long and short term care and critical illness coverage.
Want to learn what it means to be a Savers Marketing agent? Then download our free guide, See the Difference with Savers.